Ouvir
Against The Current - Matt Wong.
Against The Current - Matt Wong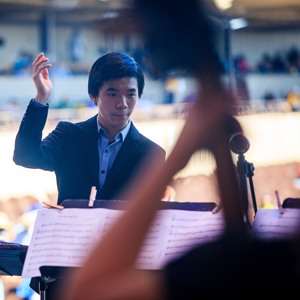 Qrcode
Descrição
2015 Gerald Wilson Award winner Matt Wong conducts "Against the Current" at the 58th Monterey Jazz Festival, September 20, 2015 with the Next Generation Jazz Orchestra. Photo ©Monterey Jazz Festival / Cole Thompson. Matt is the first double-winner of the Gerald Wilson Award. Each year since 2005 at the Next Generation Jazz Festival, the Big Band Composition Competition is open to student composers currently enrolled in high school. Compositions are judged by college-level music faculty, and the winning composer receives the Gerald Wilson Award, named in honor of the late legendary composer, arranger and trumpeter who was a friend of Monterey Jazz Festival for many years. The winning composition is performed on the Jimmy Lyons Stage in the Arena at the annual Monterey Jazz Festival by the Festival's all-star student band, the Next Generation Jazz Orchestra, and the student composer is given the Gerald Wilson Award. Matt Wong, 17, is a pianist, keyboardist, composer, and arranger. At an early age, he developed an appreciation for jazz and blues, and began playing piano at age six. His musical influences include Herbie Hancock, Brad Mehldau, Robert Glasper, Billy Preston, and Bill Holman. He performs as a solo act and with his own group, the Matt Wong Trio, and is a member of many ensembles based in San Francisco. He has performed in a variety of Bay Area venues including the SFJAZZ Center, Yoshi's Oakland, Davies Symphony Hall, the Great American Music Hall, Stanford University's Bing Center in Palo Alto, and the Monterey Jazz Festival. He has also performed at the Vienne Jazz Festival in France, the Montreux Jazz Festival in Switzerland, the Umbria Jazz Festival Italy, the Blue Note in New York City, Jazz Alley in Seattle, and the Deer Head Inn in Delaware Water Gap, Pennsylvania. Matt also composes and arranges for big band and orchestra, as well as for smaller ensembles. His big band compositions have been performed by groups including the Realistic Orchestra, Jazz at Lincoln Center Orchestra, SFJAZZ High School All- Stars, Next Generation Jazz Orchestra, Berklee Rainbow Band, and Jazzschool Studio Band. Matt will be attending a music conservatory in New York City beginning fall 2015. Born and raised in San Francisco, Matt feels fortunate to have grown up in an environment that supports jazz and fosters musical collaboration and experimentation. Matt's most recent accomplishments include 2015 DownBeat Student Music Awards (Jazz Instrumental Soloist, Original Composition – Small Ensemble and Large Ensemble, Jazz Arrangement, and as a member of three winning ensembles), 2015 Jazz at Lincoln Center Essentially Ellington Student Composition/Arranging Contest Winner, 2015 Berklee Herb Pomeroy Jazz Composition and Arranging Contest, 2015 YoungArts Finalist, 2014 and 2015 Gerald Wilson Awards (Monterey Jazz Festival); 2014 ASCAP Young Jazz Composers Awards, 2014 GRAMMY Jazz Combo (piano/keyboards).